It's time for another Writer's Workshop assignment from
Mama Kat
. I was not going to do this prompt, because the idea of listing
30
things to do this summer overwhelmed me. After reading other lists, I'm feeling inspired, and if I post my summer 2010 resolutions, I'm more likely to accomplish them, so here we are. There are some fun things (see #1 on the list) and some things I just need to get taken care of so I won't be stressed this fall when work becomes much more hectic. I like to think there's a balance of fun and productive things to do before Labor Day.
1. Meet my new grand-niece who will be moving here with her parents in August!
2. Clean out the junk in my guest room.
3. Move the massive bookcase from the hall into my guest room.
4. Fix the toilet in the hall bath.
5. Replace the faucet in my bathroom.
6. Read
more
. OK,
read
.
7. Brush my cats daily...or at least every other day.
8. Visit my sister in Minnesota.
9. Nap in a hammock at my sister's.
10. Get the self-tanner routine down so it doesn't take planning.
11. Start phasing the red out of my hair...at least a little.
12. Keep growing my hair out.
13. Walk
early in the morning
in the evenings.
14. Get the weights out from behind the sofa and actually
use
them.
15. Get my old movie posters out from under the bed and onto eBay.
16. Figure out the converter boxes so I can ditch cable.
17. Make it to the Farmer's Market.
18. Nap on Friday afternoons in June and July when I get off work at noon.
19. Make it to work by 8:00 on Fridays so I can get off at noon.
20. Train my new neighbor to help water the common areas.
21. Repaint my outdoor chairs.
22. Figure out what will grow in the flower bed where none of the bulbs survived this past winter, even though the planting will have to wait until fall since it's already too blasted hot to plant anything there.
23. Clean my office.
24. Set up a new filing system at work.
25. Try to set aside one night a month to have friends over.
26. Spend time playing around with Photoshop so I won't forget what I learned in a one-day class this week!
27. Write a bunch Single and Sane posts
in advance
.
28. Become better about responding to everyone who is kind enough to comment on my blog.
29. Spend time sitting on the patio doing nothing except listening to the sounds of summer.
30. Train myself to sign my name to my posts so those of you who don't know me can learn my name. (Yes, Virginia, I
do
have a name!)
Now go check out all the other bloggers' work on
Mama's Kat's post
.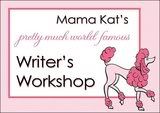 Blessings,
Margaret